Fastest CPU, top 3 gpu.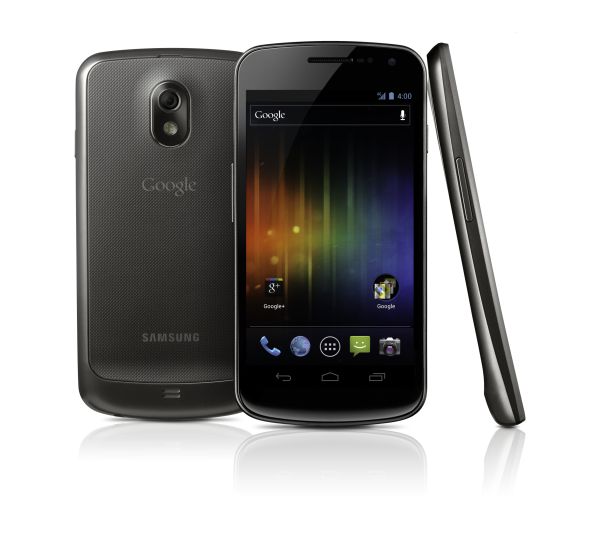 The road to Google's Galaxy Nexus and Android 4.0 (Ice Cream Sandwich) is finally nearing its destination. As of yesterday, the Samsung made Galaxy Nexus went on sale in the UK. Its arrival in the US on Verizon is imminent, but it'll still be another couple of weeks before we can get our hands on a CDMA/LTE sample.

The Galaxy Nexus hardware platform isn't a significant departure from what we've already seen on Android. TI was chosen as the launch silicon partner with its OMAP 4460. The SoC takes a pair of Cortex A9 CPUs running at 1.2GHz and gives them a dual-channel LPDDR2 memory interface to talk to. The GPU is Imagination Technologies' PowerVR SGX 540. The CPU side of things is comparable to Apple's A5, although the cores are clocked noticeably higher than the 800MHz we saw in the iPhone 4S. Until Tegra 3 and Krait show up, the CPU side of the 4460 is as good as it gets.

The real advantage the Galaxy Nexus has is on the software side. All of the goodness of Honeycomb makes its way to a handset along with even further optimization work. One of the early Galaxy Nexus owners ran the usual browser benchmarks on his phone and shared the results with us. Google has obviously done a lot of browser optimization in ICS as performance is now better than even Honeycomb: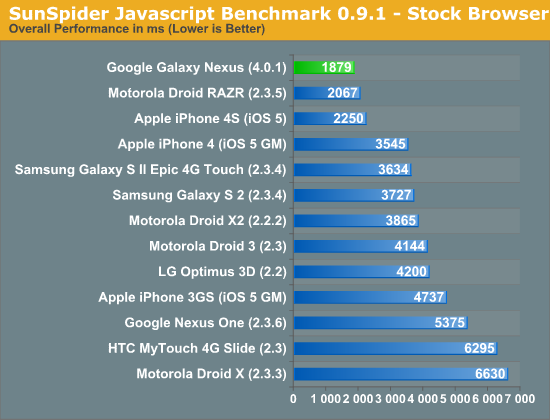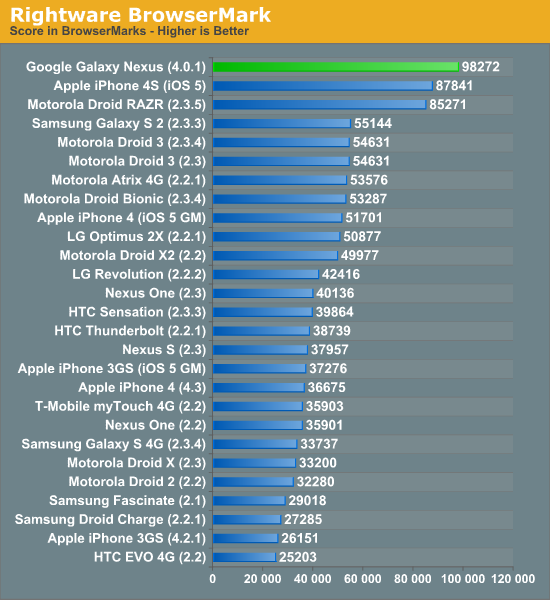 The GPU in the Galaxy Nexus isn't bad by any means - the SGX 540 is competent, but it is outgunned by ARM's Mali 400 (Samsung Exynos 4210) and the SGX 543MP2 (Apple A5). As I mentioned earlier, the Galaxy Nexus wasn't about putting the fastest hardware in a phone but rather providing a stable vehicle for Ice Cream Sandwich. Results for the Galaxy Nexus have been in the GLBenchmark database for a while and show an overall improvement over previous SGX 540 implementations (the