Imagination tech's latest gpu in product.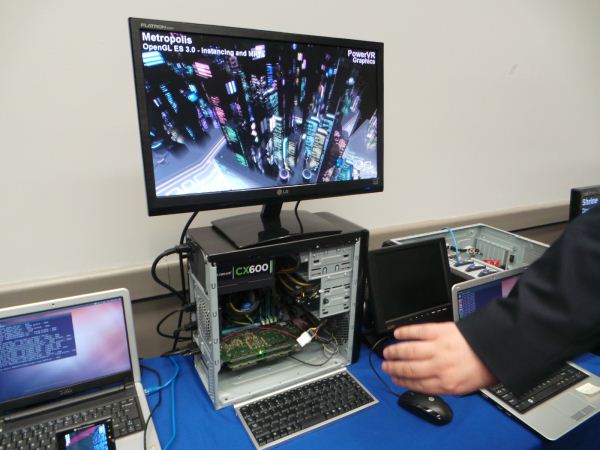 I stopped by Imagination Technologies at CES 2013 and talked about their upcoming GPU IP blocks and a few recently announced SoCs, and one demo caught my eye running on one such SoC. This is the year we finally get to see some PowerVR Series6 Rogue in silicon shipping and in the flesh, and the SoC in this case is LG's home entertainment oriented H13 (hence the H) SoC that was announced at the show. 
Imagination was showing off the H13 running through a variety of their own custom-built demos showing off OpenGL ES 3.0 features like multiple render targets, occlusion queries, expanded MSAA support, new texture formats, and such that we've gone over already. We don't know too much about LG's H13 SoC at this point beyond that it likely isn't an ARM Cortex A15 based design, but does include a two-cluster Series 6 GPU (G6200?) at unspecified clocks. Alongside that live demo on real production silicon was a four-cluster Series6 GPU being simulated on an FPGA inside a PC running much slower (obviously) thanks to very constrained memory bandwidth and clocks. 
I'm told that LG's H13 isn't necessarily the first production silicon with Rogue inside, but the first that's been shown and demoed in the wild. For this it's particularly exciting. I expect to see some more Rogue designs emerge later this year. 
The second part is some news about a subset of OpenGL ES 3.0 features that will be enabled retroactively on all PowerVR Series5XT hardware. The entire lineup apparently has the hardware to enable these OpenGL ES 3.0 features as an optional extension inside OpenGL ES 2.0. Features include multiple render targets; occlusion queries; seamless cube maps; sampler access from vertex shaders; floating point textures; GLSL full-precision floating point; R and RG textures; min/max blends; and multisample render buffers.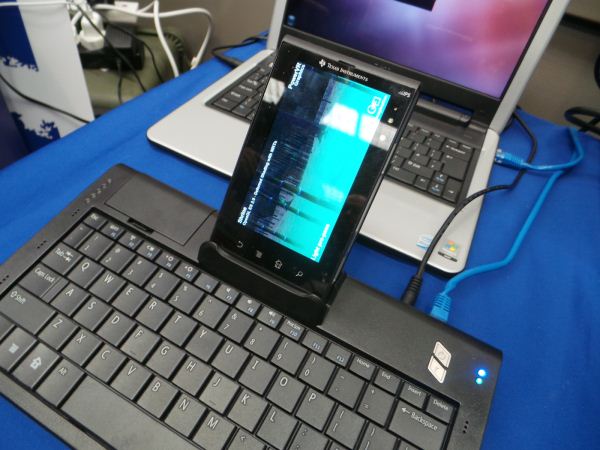 Imagination demoed some of the same demos they had running on Series6 Rogue on an OMAP5430 development board with...