The latest arm cpu from Qualcomm, nvidia main competitor in mobiles.  This one has integrated lte. I'm betting better battery trumps any graphics advantage the tegra has. I think nvidia bought a wireless chip maker recently, so that may be solved soon....
---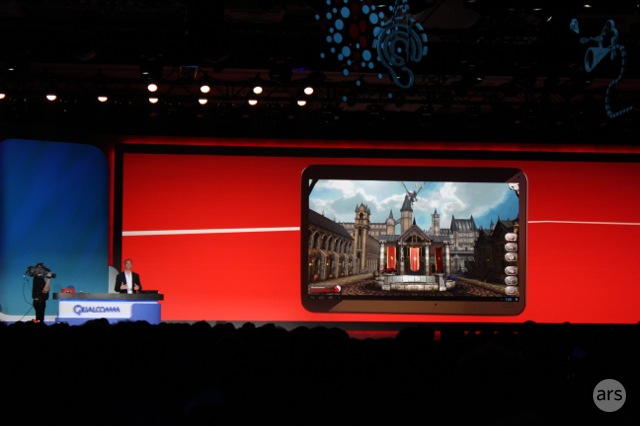 Dr. Paul Jacobs, CEO of Qualcomm, shows off the processing power of the upcoming Qualcomm 800 series mobile processor.
Andrew Cunningham
A new Snapdragon series processor will arrive from Qualcomm this coming summer, the company announced during its keynote presentation at the Consumer Electronics Show Monday. The new processor, named the 800 series, "delivers 75 percent better performance" than its predecessor, the Snapdragon S4 Pro, while consuming less battery life.
The 800 series includes a quad-core Krait 400 CPU clocked at up to 2.3GHz per core alongside an Adreno 330 GPU. Qualcomm claims that the Adreno 330 has twice the "compute performance" of the Adreno 320, showing off its processing power during the presentation with a real-time render of a dragon blowing fire and stomping its feet.
The chip will include support for 4G LTE and 802.11ac as well as "Ultra HD" (née 4K) video resolutions of 4096×2304. The chip also has dual image signal processors that will support up to four cameras, 3D image capture, and photo-merging to create up to 55-megapixel images, if manufacturers can provide the hardware.