Jelly Bean reaches 1 in 4 Android devices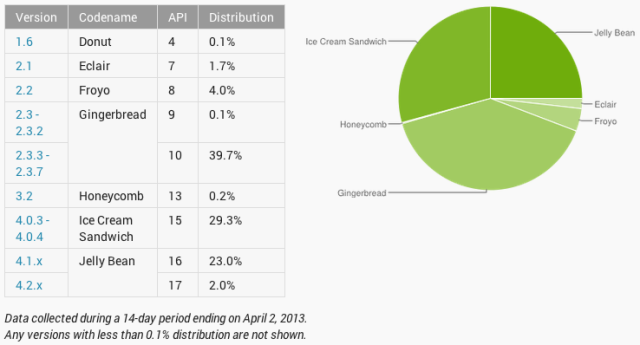 Jelly Bean has finally cracked a 25 percent install base across Android devices in use, according to data released by Google Wednesday. The OS version is still bested by 4.0 Ice Cream Sandwich, which is present on 29.3 percent of devices, as well as by 2.3 Gingerbread on 39.8 percent of devices.
The data on Android versions was collected by Google over a 14-day period ending April 2. The company now measures only devices that check in to Google Play, rather than any device that pings Android servers.
Back in March, 4.1/4.2 Jelly Bean was still lagging at a 16.5 percent user base five months after launch. That month marked the first that Android 4.x versions overtook 2.x ones in their installed base.
Read 6 remaining paragraphs | Comments