Apple's dev event happened today. Highlights here.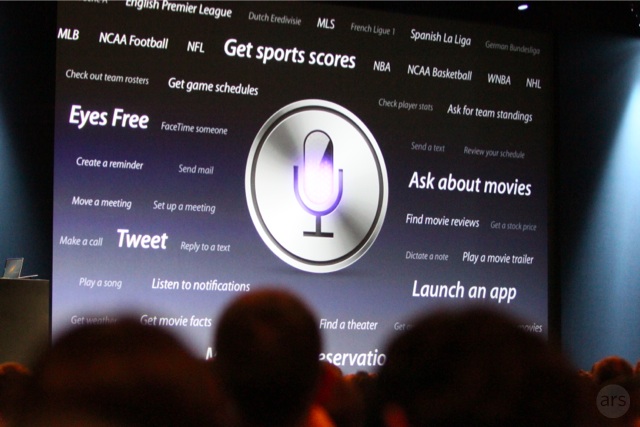 iOS 6, a new version of Apple's mobile operating system, was unveiled at the company's Worldwide Developer's Conference on Monday. The version will feature "significant enhancements" to Siri, Apple's own Maps app, a new app called Passbook, Facebook integration, changes to phone calls and FaceTime, and improvements to Mail, Safari, and Photo Stream.
Apple stated it has been working "very closely" with Facebook to integrate it into iOS 6. Users will be able to post to Facebook from different apps, similar to the level of Twitter's integration now. Users will see notifications from Facebook in the Notification Center, and Facebook events and birthdays will appear in the Calendar app.
Third-party apps can now be launched with a command to Siri—for example, "Play Temple Run" opens the app. Users can also now tweet from Siri, a formerly noticeable hole in the Twitter integration throughout the rest of iOS. In addition to hands-free mode, Siri now has "eyes-free" mode, where the app doesn't light the screen, but still reads responses out. Apple is working with BMW, GM, Jaguar, Mercedes, and Honda to bring a "Siri button" to their cars that will work with iPhones within the next 12 months.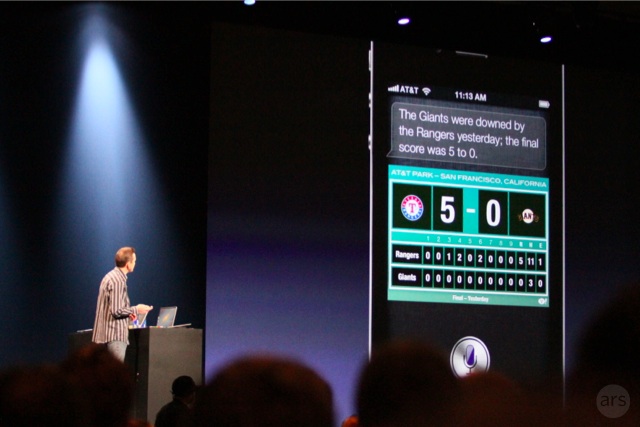 Siri showing answers to sports questions
Jacqui Cheng
Siri has become more knowledgeable about restaurants and theaters, said Scott Forstall, senior vice president of iOS software. Restaurant search results are now sorted by Yelp rating, and tapping on them takes the user into the Yelp app. OpenTable, a reservation booking app, is also integrated into the restaurant results. For movies, Siri can bring up artwork and the slate of movies playing at a nearby theater, along with information culled from Rotten Tomatoes. Siri is also now able to respond to questions about sports ("What was the score of the last Giants game?"), including queries on standings and player stats.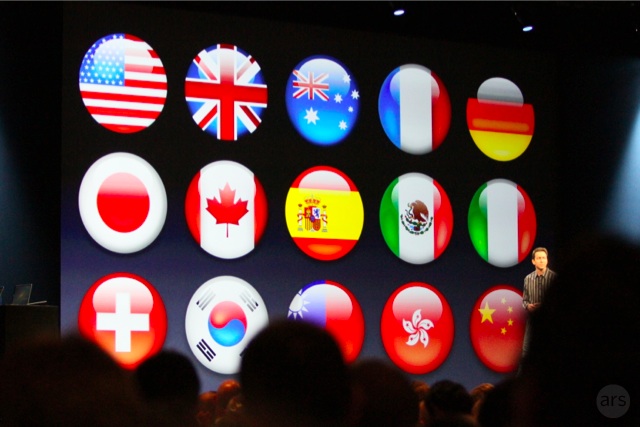 Siri now supports languages other than English.
Jacqui Cheng
Apple will add many international languages to Siri, including Canadian French and English, Spanish, Italian, French, German, Korean, Mandarin, and Cantonese.
Read more
|