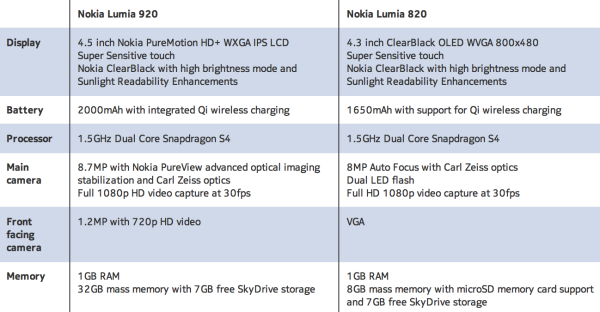 Nokia just announced its next-generation Windows Phone 8 devices: the Lumia 920 and Lumia 820. Both are pentaband devices (available in both LTE and HSPA+ versions later this year, Q4 to be exact), powered by Qualcomm's Snapdragon S4 SoC running at 1.5GHz. The 920 features an 8.7MP rear facing camera with optical image stabilization and F/2.0 lens. Around front is 1.2MP F/2.4. The 820 has no OIS for the 8MP rear facing camera and a VGA front facing camera.
Both phones support wireless charging via the Qi standard. The 920 has an integrated 2000mAh battery, while the 820 has a smaller, removable, 1650mAh battery.
The 920 features a 4.5-inch WXGA IPS LCD, while the 820 uses a 4.3-inch OLED WVGA panel. 
Both support Nokia's super sensitive touch that allows even someone wearing gloves to use the capacitive touchscreen. Synaptics is responsible for the touch controller in both the 920 and 820.
Only the 820 has a microSD card slot, while the 920 features 32GB of on-board NAND. 
The 920 measures 130mm x 70.8mm x 10.7mm and weighs 185g. The 820 is smaller at 123.8mm x 68.5mm x 9.9mm and 160g. Full network support for both phones is as follows:
GSM850/900/1800/1900 WCDMA 850/900/1900/2100
LTE 800/900/1800/2100/2600
Speed: LTE Cat3 100Mbps/50Mbps HSDPA+ Dual Carrier cat24 (42 Mbps) HSUPA cat 6: 5.8 Mbps
NFC, 802.11a/b/g/n, WiFi Hotspot, Bluetooth 3.1 are all supported.