The first smartring has an LED screen, tells time, and accepts calls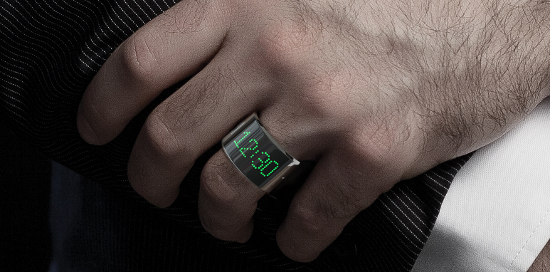 Forget smartwatches—smartrings are the new thing now. An Indiegogo campaign for a product called the "Smarty Ring" has hit its funding goal. Smarty Ring is a 13mm-wide stainless steel ring with an LED screen, Bluetooth 4.0, and an accompanying smartphone app. The ring pairs with a smartphone and acts as a remote control and notification receiver.
The ring can display the time, accept or reject calls, control music, trigger the smartphone's camera, and initiate speed-dial calls. It will also alert the wearer with light-up icons for texts, e-mails, Facebook, Twitter, Google Hangouts, and Skype. It supports dual time zones and comes with a countdown timer, a stopwatch, and an alarm. It can work as a tracker for your phone, too—if your smartphone is more than 30 feet away from the ring, Smarty Ring will trigger an alarm.
The ring supports Android and iOS—as long as your device has Bluetooth 4.0, it should be compatible. The creators are promising 24 hours of battery life from the whopping 22 mAh battery, and charging happens via a wireless induction pad.
via Mobiles @ NCSU http://mobiclass.posthaven.com/find-the-first-smartring-has-an-led-screen-tells-time-and-accepts-calls